And now ? Eric, Fabrice "Fit", Stephane, Micky.
Que sont-ils devenus ? And now ?
Eric (Keen Act, Absorbed), Fabrice « Fit » (F.B. Bastard, What's Up), Stephane (F.B. Bastard), Micky (Hunter) forment
The Strauss 

!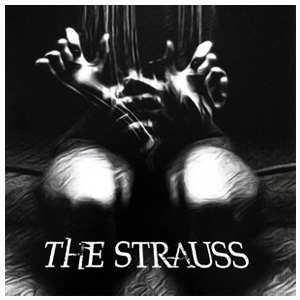 Vocals : Carina // ex-Evolve
Bass : Micky  // ex-Hunter, ex-Sweet Revenge
Drums : Fabrice « Fit » Werlen  // ex-What's Up, ex-F.B. Bastard, ex-back to The zoo, ex-Sonic baby
Guitars : Eric Haug  // ex-Keen Act, ex-Absorbed
Guitars : Stephane pot  // ex-F.B. Bastard
Biography
2012
Eric quitte Absorbed et aspire à d'autres directions musicales. Il contacte alors les musiciens avec qui il a toujours voulu jouer dont Stéphane, Fit et Micky, qui répondent présents à l'appel. Ils forment alors leur nouveau groupe « Lena Strauss », basé sur un concept mystérieux où les visages des musiciens ne seraient pas dévoilés dans un premier temps.2013
Ils composent des morceaux en y mêlant toutes leurs influences : tantôt Rock, tantôt Stoner avec quelques touches progressives en y intégrant du Heavy Métal et même des passages très lourds, rendant ainsi leurs compositions très riches techniquement et musicalement.Ils décident de n'avoir aucune limite musicale, ce qui rend leur musique particulièrement variée, basée sur le feeling, écorchée de gros riffs, soutenue rythmiquement et profonde dans les parties instrumentales. Les structures musicales sont bien élaborées dans une ambiance créative en équipe.Vient le moment d'y mettre de la voix. Pendant que Pascal Berod (chanteur de Remade) vient leur prêter main forte en les dépannant aux vocales, ils auditionnent des chanteurs mais sans grand succès.
2014
En octobre 2014, Fit contacte Carina pour savoir si elle cherche un groupe et l'invite à une audition à leur local de musique. Elle pose sa voix sur leurs compositions et crée immédiatement l'alchimie qu'ils recherchent.La formation est enfin au complet. Carina propose alors qu'on renomme le groupe en « THE STRAUSS » .Elle amène toute sa palette vocale, son professionnalisme et ses textes. Son timbre vocal est tantôt doux aux teintes Soul/Blues, tantôt Rock/Heavy, des graves rageurs, des aigus clairs et performants, passant de voix pleine à voix lyrique, aussi elle s'essaie pour la 1ère fois à la technique vocale en scream. Son style vocal et ses mélodies n'ont aucune limite et apportent la touche finale à chaque composition.
2015
The Strauss, travaillent leurs compositions créant ainsi les morceaux aux ambiances diverses tout en gardant une base bien Rock.Carina cherche à écrire des textes autant positifs, que mystiques, tirés d'évènements vécus, ou des comportements humains, ou encore sur des évènements dramatiques. Il y a une réelle recherche psychologique dans ses textes avec une envie de transmettre des messages, de conter des histoires, évacuer des peines ou encore raconter des passages de vie. Le but étant de transmettre sa passion et de faire voyager le publique à chaque composition.Puis en fin d'année, pour leur tout premier concert ils se voient proposer d'assurer la 1ère partie de BLACK RAIN au Manoir Pub à St-Maurice. Le publique les accueille chaleureusement, ce qui leur donne envie d'entrer en studio pour enregistrer leur premier EP.
2016
En début d'année, The Strauss, choisissent de travailler avec Vladimir Cochet au Conatus Studios pour enregistrer leur EP de 4 titres très différents les uns des autres, ce qui démontre bien la diversité de leur musique.Par la même occasion, ils tournent avec Conatus Studios un clip au cours de leur session d'enregistrement sur le morceau « Hand of Judas », qui une fois posté sur Youtube, rencontre la vive sympathie du publique.
https://www.facebook.com/thestrauss.official