And now ? Guillaume.
Que sont-ils devenus ? And now ?
Guillaume (Hare) devient…
John Dear !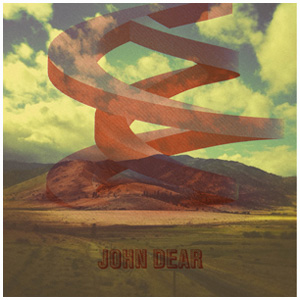 Vocals + Guitars : Guillaume Wuhrmann // ex-Hare, ex-Zorg
Drums : Catia Bellini // ex-Zorg
Biography
« John Dear is a motherfucker » qu'il va désormais falloir entonner avec une rasade d'ironie dans la gorge. John Dear est un connard magnifique. De ceux qui dépucellent sans cesse leur existence avec la poitrine qui brûle. De ceux qui font l'amour contre le temps. De ceux au fond, qu'on paierait pour détester, le soir, en s'expulsant de la rame pour aller noyer ses frustrations dans un bourbon de supérette. Peut-être parce que John Dear incarne à lui seul cette crise de la quarantaine exemplaire, qu'on ne croise jamais chez le voisin ou dans les nanars d'un Klapisch. Une crise poétique, électrique, tendue comme un quotidien qu'on refuse de voir s'écouler dans l'évier familial avec ses rêves de gosses. Ici, pas question de troquer le point G contre un col en V. Pas d'amant dans le placard à strings, ni de Porsche Cayenne dans le garage. D'ailleurs John Dear n'a pas de garage, mais une petite bicoque jaune où il s'est promis de franchir toutes les nuits la ligne rouge. Quatre murs plantés entre les pavés lausannois où la chaleur des corps défie le volume d'un ampli qui supplie de le laisser hurler.
Dans le monde de John Dear, le blues décharné froisse la bienséance dans des costards taillés à la machette et les desperate housewives se tapent des routiers contre des juke-box en leur crachant des alexandrins sur l'épaule. Oui, John Dear est un connard. Un connard dont la carcasse anguleuse gravit son époque en plantant des riffs dans le roc. Parce que John Dear, ladies and gentlemen, est un groupe de rock.
​
Sous sa barbe de redneck à croix blanche, se cache le nouveau fantasme sonique de Catia Bellini et Guillaume Wuhrmann. Deux inséparables qui n'ont plus vingt ans, mais qui se sont payé une éternité en racontant l'épopée de leurs antihéros imaginaires. Après avoir sublimé Zorg sur toutes les scènes du pays avec des refrains pop cramés au feu de bois, ils ont convié John à marcher sur les braises. Deux têtes, quatre bras. Et si Guillaume a voulu se lover contre son timbre goudronneux, Catia lui a tenu le crachoir dans la peau d'Alma June. La fiction, toujours, pour apprivoiser cette saloperie de réalité. Dans leur petite baraque jaune, durant plus d'une année, ils ont respectivement envoûté guitare et batterie, digéré les Black Keys, Jack White et leurs descendants, en plongeant leurs phalanges dans le classic rock 80's et en buvant des couchers de soleil au goulot.
​
John Dear, au fond, c'est ce type à la quarantaine rutilante, qui a eu la bonne idée de sauter dans les shorts d'Angus Young avant de traverser les Etats-Unis dans un roman qu'il n'aura jamais la maladresse de terminer.
bio réf : Fred Valet
https://www.facebook.com/JohnDearMusic