And now ? Sebastian, Patrick, Dom.
Que sont-ils devenus ? And now ?
Sebastian (Last Adjustment), Patrick (Genocide) et Dom (Rash Panzer) deviennent…
The Deeds !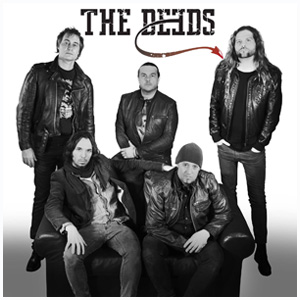 Vocals : Didier Coenegracht // ex-Dirty Sound Magnet
Drums : Patrick Aeby // ex-Genocide, ex-Krokus
Guitars : Dom Favez // ex-Krokus, ex-Rash Panzer, ex-Rated X, ex-Genghis Khan
Guitars : Sebastian Maeder // ex-Last Adjustment, ex-Maeder, ex-Dry
Bass : Jan Peyer // Almost Human, etc…
Biography
Expérience, puissance, efficacité.
Tels sont les maîtres mots de The Deeds, nouveau Power Band prêt à débarquer sur les scènes avec un tout premier album. Formation récente, constituée en 2016, The Deeds correspond a toutes les caractéristiques du « Power Band ». Issus de groupes renommés, ses membres sont tous des musiciens rompu à l'exercice de la scène depuis de nombreuses années sur le plan national et international. Ils mettent en commun leurs influences et leurs expériences pour produire un rock puissant et efficace.
Ainsi les fans de Krokus retrouveront une section rythmique solide avec Pat Aeby (batterie) et Dom Favez (guitare rythmique), ceux de Maeder ou Dry, pourront à nouveau entendre Sebastian Maeder (Guitare) apportant une « australian touch » inspirée et enfin les afficionados de Dirty Sound Magnet apprécieront les envolées vocales de Didier Coenegracht, achevant de donner à l'ensemble une couleur seventies aux accents bluesy.
L'excellent travail de basse est assuré avec brio par Jan Peyer, fantastique bassiste, permettant à cette formation de sortir des sentiers battus musicaux habituels.
bio réf : http://paillote-festival.ch
https://www.facebook.com/the5deeds/
https://www.youtube.com/channel/TheDeeds