And now ? Alexandre, Patrick.
Que sont-ils devenus ? And now ?
Alexandre (Stallions) et Patrick (Stallions) deviennent
G.O.A.T !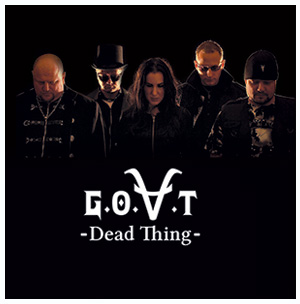 Vocals : Fane Jerry // ex-Brainless
Drums : Frank Brighton // ex-Schyzophrenia
Guitars : Peter Gray (Patrick) // ex-Stallions.
Bass : Alan Brighton (Alexandre) // ex-Stallions.
Keyboards : Steven Worthy // ex-NATA
Biography
Passion, énergie et rock'n'roll. G.O.A.T se définit en ces quelques termes. Rockeurs devant l'éternel, les 5 membres du groupe cumulent plus de 15 ans d'expérience de la scène.
Dispersant ses sons heavy aux quatre vents, G.O.A.T se délecte du rock des années 80 et 90 en le remettant au goût du jour avec des sons électro.
Avec deux nouveaux singles au compteur et la présence de Fane Jerry en frontwoman conquérante, les chèvres sont prêtes à distribuer leur rock énergique partout où elles passeront !
Un deuxième album est en préparation et verra le jour courant 2017 !
https://www.facebook.com/goatrockband/
http://www.youtube.com/user/GOATRockBand